Jurassic World: Dominion Dominates Fandom Wikis - The Loop
Play Sound
Eminem
The Marshall Mathers LP 2
Features
Rihanna
Released
October 29, 2013
Recorded
2012
Format
Digital Download
Genre
Hip hop
Length
4:10
Label
Interscope, Shady, Aftermath
Writer
Marshall Mathers, Bryan Fryzel, Aaron Kleinstub, M. Athanasiou, Robyn Fenty, Jon Bellion, Bebe Rexha
Producer
Frequency, Aalias (co-prod.)
Single information
Single release
October 29, 2013
Video release
December 16, 2013

←Last single
"Rap God"

Next single→
"Headlights (Ft. Nate Ruess)"

The Monster is a song by Eminem that was released as the fourth and final single off of The Marshall Mathers LP 2, released on October 29, 2013. The song features vocals by Barbadian singer Rihanna, making it the fourth collaboration between the two artist following "Love the Way You Lie" and its sequel (2010), and "Numb" (2012). The song's lyrics present Rihanna coming to grips with her inner demons, while Eminem ponders the negative effects of his fame.
The Monster received positive reviews upon release, charting at Number One in The United States and in eleven other countries. It also marks Eminem's first number one on the US Hot R&B/Hip-Hop Songs chart and has reached the top ten in Austria, Belgium, Italy and Spain.
Background and Production
[
]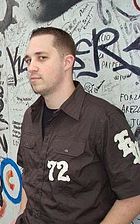 Eminem and Rihanna first collaborated on Love the Way You Lie, released as a single off of Eminem's Recovery, which was a critical and commercial success and topped the US Billboard Hot 100 chart for seven consecutive weeks. The song's sequel title Love the Way You Lie (Part II) was released as part of Rihanna's fifth studio album Loud; it mainly views matters from the female protagonist perspective. In November 2012, Eminem and Rihanna collaborated again on "Numb", which was included on Rihanna's seventh studio album Unapologetic.
The song was produced by Frequency, who worked with other artist including Ja Rule and Slaughterhouse.
Reception
[
]
The Monster received positive reviews. Writing for the IBTimes, Tarun Mazumdar reacted positively to it, praising its "memorable lines" and Rihanna's "soulful" vocals and rating it 3.5 out of 5. Amy Sciaretto of PopCrush gave it the same rating and noted that "it's not nearly as powerful or affective as the previous partnership, but it's not supposed to be." Allan Raible of ABC News also enjoyed the song, calling it a "a career highlight" and a "personal rhyme about his history." About.com's Bill Lamb had similar thoughts, opining that Eminem's introspection "lends the song engaging power" while also praising Rihanna's vocals.
Commercial
[
]
"The Monster" first entered the Billboard Hot 100 at number three, on November 6, 2013, marking Eminem's third best entry following "Not Afraid" (No. 1, 2010) and "Love the Way You Lie" also featuring Rihanna (No. 2, 2010). This ties "Berzerk", which also debuted at number three on the Hot 100. The entry gave Rihanna her 25th top ten on the chart, equalling Elvis Presley for the eighth-most top tens in the chart's history. This achievement also earned the singer the honor of being the fastest women to accumulate the top ten tally (with eight years and four months since her first single), besting Madonna by three months. Furthermore, the debut marked Rihanna's 45th overall chart entry, tying Mariah Carey for the eighth most chart appearances amongst women.
Music Video
[
]
The music video, directed by Rich Lee, features references to other music videos that Eminem has released including "My Name Is", "Lose Yourself", "The Way I Am" and the 2001 Grammy Awards performance of "Stan" with Elton John.
Lyrics
[
]
[Hook]
I'm friends with the monster that's under my bed
Get along with the voices inside of my head
You're trying to save me, stop holding your breath
And you think I'm crazy, yeah, you think I'm crazy

[Verse 1]
I wanted the fame, but not the cover of Newsweek
Oh well, guess beggars can't be choosy
Wanted to receive attention for my music
Wanted to be left alone in public, excuse me
For wanting my cake, and eat it too, and wanting it both ways
Fame made me a balloon cause my ego inflated
When I blew; see, it was confusing
Cause all I wanted to do is be the Bruce Lee of loose leaf
Abused ink, used it as a tool when I blew steam (wooh!)
Hit the lottery, oh wee
With what I gave up to get was bittersweet
With this like winning a huge meet
Ironic cause I think I'm getting so huge I need a shrink
I'm beginning to lose sleep: one sheep, two sheep
Going cuckoo and cooky as Kool Keith
But I'm actually weirder than you think
Cause I'm

[Hook]
I'm friends with the monster that's under my bed
Get along with the voices inside of my head
You're trying to save me, stop holding your breath
And you think I'm crazy, yeah, you think I'm crazy

[Bridge]
Well, that's nothing
Well, that's nothing

[Verse 2]
No, I ain't much of a poet but I know somebody once told me
To seize the moment and don't squander it
Cause you never know when it all could be over tomorrow
So I keep conjuring, sometimes I wonder where these thoughts spawn from
(Yeah, ponder it, do you want this?
No wonder you losing your mind, the way it wanders)
Yodel-odel-ay-hee-hoo
I think you've been wandering off down yonder
And stumbled onto Jeff VanVonderen
Cause I need an interventionist
To intervene between me and this monster
And save me from myself and all this conflict
Cause the very thing that I love is killing me and I can't conquer it
My OCD is conking me in the head
Keep knocking, nobody's home, I'm sleepwalking
I'm just relaying what the voice in my head's saying
Don't shoot the messenger, I'm just friends with the

[Hook]
I'm friends with the monster that's under my bed
Get along with the voices inside of my head
You're trying to save me, stop holding your breath
And you think I'm crazy, yeah, you think I'm crazy

[Verse 3]
Call me crazy, but I have this vision
One day that I walk amongst you a regular civilian
But until then drums get killed and I'm coming straight at
Emcees, blood get spilled and I
Take it back to the days that I get on a Dre track
Give every kid who got played at
Pumped up feeling and shit to say back
To the kids who play 'em
I ain't here to save the fucking children
But if one kid out of a hundred million
Who are going through a struggle feels and then relates that's great
It's payback, Russell Wilson falling way back
In the draft, turn nothing into something, still can make that
Straw into gold chump, I will spin Rumpelstiltskin in a haystack
Maybe I need a straight jacket, face facts
I am nuts for real, but I'm okay with that
It's nothing, I'm still friends with the

[Hook + Bridge]
I'm friends with the monster that's under my bed
Get along with the voices inside of my head
You're trying to save me, stop holding your breath
And you think I'm crazy, yeah, you think I'm crazy
Well, that's nothing
Well, that's nothing